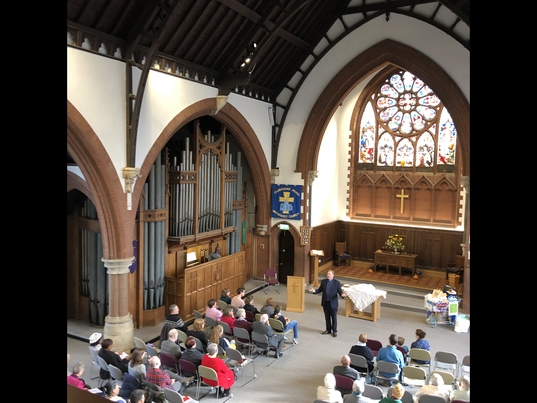 IMPORTANT NOTICE
Cambridge Road is currently closed.
For worship whilst the building is closed please click here.
Please see the full update on the COVID-19 page on this site.
Message from Revd. Sue Shortman 5th April 2020:
Lent has certainly been a Lent of Lent's this season. I don't know about you but when Lent began nearly 6 weeks ago I made the promise that I always do at the Ash Wednesday service, to draw close to God and to refresh and renew my commitment to God. Due to circumstances beyond any of our control that has been possible more than ever before with an enforced period of time in isolation at home. As we arrive at Palm Sunday we are still unable to come together for Worship and to shout our Hosannas to welcome Jesus into town, however we can still engage with the season. One of the events that would have been happening this Sunday is a prayer walk with the Inclusive gathering Birmingham in the city centre, of course this cannot happen now but they have offered a virtual prayer walk on line for us to follow, either from the comfort of our homes if we are isolating, or to use it during our daily exercises tomorrow and pray for our local community as we walk. You can find it on line at https://bit.ly/2wKkxD9.
This coming week we enter with Christ the final, harrowing week of his earthly life, for some this may be quite close to home, those who are grieving the loss of loved one's to this awful virus that seems to be unstoppable. We pray without ceasing for those affected by the tragedy of what we are going through as a nation and as a world at this time. As we enter into Holy Week this year, the final week of Christ's journey to the cross it will seem so very different to previous years, however we are still invited, wherever we are, to ponder the events of this week; beginning with Jesus' triumphant entry into Jerusalem, his final goodbye's to his friends, onto his death on the cross and the separation Jesus experiences from God, into the joyous celebration on Easter Sunday when we find the tomb empty. We are once again invited to meditate on the worst - and the best - of what our frail human nature is capable. Something that I suppose many of us have already been pondering during this last few weeks as we have witnessed the selfishness of some alongside the most extraordinary selflessness of others.
As we continue from Palm Sunday into Holy Week The Methodist Church has produced a resource based on the Methodist Art Collection and includes a art, prayers and poems and can be found on line at https://www.methodist.org.uk/media/16612/paintings-poemsandprayersforholyweek2020-mmac.pdf. I recommend this as a way of drawing close to God in this final week journeying with Jesus to the cross and beyond.
This is such a difficult time for many of us, especially those who are most affected by the Coronavirus, those who have become infected, our loved one's and friends who have died, those who feel isolated and alone, those working on the frontline in the NHS, nursing homes and the emergency services. It is important to remember that Jesus walked this road too, he felt abandoned and alone, isolated and fearful, died a painful death so that we might have eternal life with God. It may feel like a platitude to say that Jesus knows what we are going through, but it's true. Not only does he know what it feels like, he is walking it with us again, drawing us close and holding us tight. I do hope that we might all be able to hold onto that through these challenging days.
As this weekend we celebrate Palm Sunday, as we stand with Christ at the beginning of this last week of his earthly life, as we lay our palms at his feet, I pray that we may faithfully follow in his footsteps to the cross and all that lies beyond.
Amen
Rev Sue Shortman
Cambridge Road Methodist Church...
Where we learn, where we laugh,
where we love and are loved
Where we worship God at 1030am on Sunday morning
Where you are welcome to join us
Cambridge Road Methodist Church is a welcoming church in the heart of Kings Heath. We look forward to meeting you; please get in touch if you have any questions.
Our main worship takes place on Sunday mornings at 10:30am. We have other regular activities throughout the week (please see our events page for further details).
The church building is used 7 days of the week and is a vibrant, useful community space. Many local groups meet on our premises and we have good links with the community. Have a look around our website and see our links for further details.